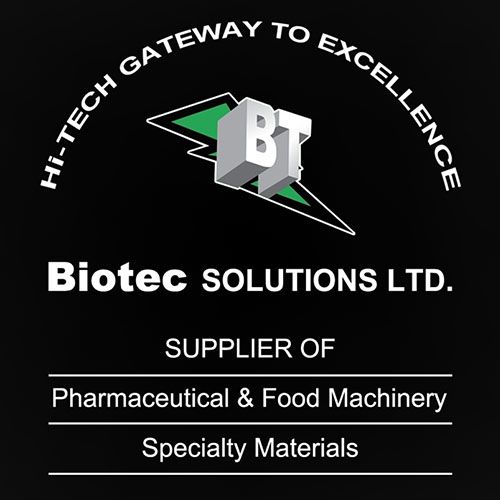 Biotec Solutions
Stand: B035
| Desiccation Bags
| Stand-Up Pouch
| Adhesive Equipment
| Aseptic Packaging Machines
| Bag Filling
| Bag-In-Box Equipment
| Blister Packing Equipment
| Capping Machines
| Cartoning Machines
| Case Closing Machines (Corrugated Board)
| Case Erecting Machines (Corrugated Board)
| Case Form Fill And Seal Machines (Corrugated Board)
| Case Loading Machines (Corrugated Board)
| Checkweighers
| Closing Machines
| Controlled Atmosphere Packaging Equipment
| Counting Machines
| Dispensers/Feeders/Applicators
| Dosing Machines
| Drying Machines
| Feeders
| Fill And Seal Machines
| Filling Machines
| Form Fill And Seal Machines
| Grouping Machines
| Handling Machinery
| Inspection Machines
| Labelling Machines
| Leaflet Insertion Machines
| Lidding Machines
| Materials Testing
| Metal Detecting Machines
| Overwrapping Machines
| Pick And Place Machines
| Sealing Machines
| Shrink Tunnels
| Shrink Wrapping Machines
| Stick Packing Machines
| Tablet Counting Machines
| Tea Bagging Machines
| Testing Equipment
| Unscrambling Machines
| Vibratory Bowl Feeders
| Vision Systems
| Dosing Machines
| Drying Machines
| Filling Machines
| Feeders
| Inspection Machines
| Agitators
| Blending Machines
| Blowers & Exhausters
| Bulk Handling Equipment
| Capsule Filling Machines
| Chemical Processing Machines
| Coating Machines
| Comminution Equipment
| Compaction Equipment
| Compactors
| Complete Turnkey Processing Plant or Lines
| Compounding Machines
| Cosmetic Processing Machines
| Dust Control Equipment
| Elevators
| Extruding Machines
| Fluid Bed Processing Machines
| Homogenising Machines
| Hopper Loaders
| Ibcs (Intermediate Bulk Containers)
| Isolation Systems
| Metal Detection Equipment
| Milling
| Mixers (With And Without Vessels)
| Personal Care Products
| Pharmaceutical Processing Machines
| Process Vessels
| Sieves
| Silos
| Size Reduction Equipment
| Sorting Equipment
| Toiletry Processing Machines
| Washing Machines
| Xray Inspection Systems
| Consultancy Services
| Industrial Software And Communication
Biotec solutions was formed to provide cost effective & quality machinery, specialty materials, genuine techno-engineering services which deliver true advantages to all our customers in Australia and New Zealand.
We supply manufacturing / packaging machinery and laboratory / R & D equipment, stability chambers, gelatine / vege capsules, tablet coating materials and provide added value support in technical engineering aspects, project management support to pharmaceutical, nutraceutical and functional foods.
We recently have started Contract Stability Samples Storage Facility in Auckland and Christchurch for customer and one more facility is coming up at our Melbourne site by June 2022. We also provide Temp and RH Calibration Services accredited International regulated bodies.
Operations: Sydney, Melbourne, Brisbane, Auckland, Christchurch, Nadi, Mumbai (India), Buchan (South Korea)