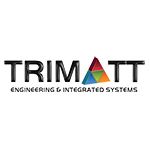 Trimatt Systems
Stand: D200
| Auxiliary Packaging Means
| Closing/Sealing Accessories
| Labels
| Leaflets (Customer Information)
| Marking Devices
| Packaging Inserts
| Components
| Short Order Runs
| Control Technology
| Handling Technology
| Machine Vision
| Peripheral Equipment
| Packaging
| Packaging Machinery
| Plant Equipment
| Design & Construction
| Processing Machinery
| Bespoke Machinery or Machine Development
| Feeders
| Inspection Machines
| Complete Turnkey Processing Plant or Lines
| Pharmaceutical Processing Machines
| Rewinding Machines
| Software & Services
Trimatt Systems provides high-tech solutions to industry for adding value to printed media and electronic media integrated packaging.
A leading supplier of solutions tailored to card manufacturers/finishers, printers, packaging companies, security printers and fulfillment businesses - our solutions encompass inkjet, gluing, labelling, product handling, vision systems, folding, inspecting, matching, attaching, polywrapping, inserting and more.
Products
MFT Automation friction feeders use only high-quality parts and are designed for 24-hour operation. All of our friction feeders are powered by a 750 watt (one horsepower) brushless servo motor, which ...

The HP FI-1000 print engine uses an aqueous pigmented ink which makes vibrant prints that are both water-proof and light fast. Ideal for short run paper bags and boxes With it's integrated friction fe ...