BLANCHER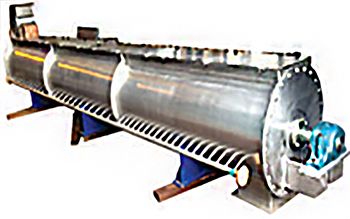 Output Capacity: 1000 to 4000 Kgs / hr.
Features:
The body frame is made of SS 304 rectangular pipes.
Main tank of octagonal shape made of SS 304 sheets.
Perforated drum with screw flights made of SS 304.
Steam pipeline and steam fittings including automatic steam control valve.
Feed and discharge hopper with covers wherever necessary.
Scooping arrangement to discharge the product from the drum to the discharge hopper.
Suitable drive system including geared motor, sprockets, chain etc.
Application:
Blanching is used in the processing of fruit juices, fruits and green vegetables.