Fully Auto Stretch Wrapper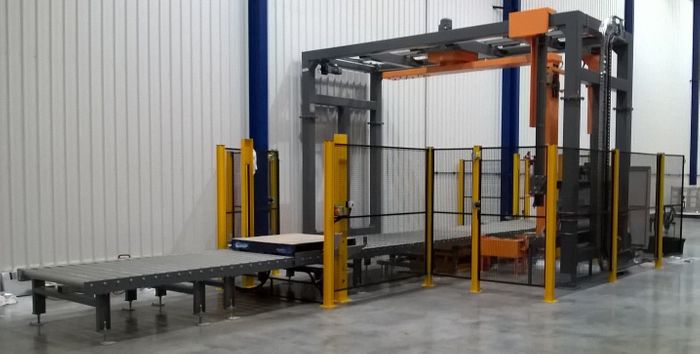 Ideal for high speed through-put and for wrapping more unstable products. User friendly. Robust construction. Safe to use.
FEATURES: Fully automatic wrap cycle, Automatic film grab, cut & wipe unit, Variable end wraps, Control stretch film unit, Automatic sensors to detect variable lengths, Variable conveyor speed, Ring diameter (variable to customer spec.), Soft start rotating ring, Rotating ring speed (variable to customer spec.), Safety guarding, 415V 3 phase power connection, 450kpa 60 litre/min (compressed air), Australian Made, 12 Months Warranty and Full Service Backup.
OPTIONAL EXTRAS: High speed rotation arm (max 25RPM), 750mm film head power controlled stretch film unit, Pallet lifter frame 9 allows wrapping under pallet), Top sheet dispenser, Powered roller conveyors, Powered chain conveyors, Heat seal unit, Safety guarding.