Kemutec - KEK Kibbler Mill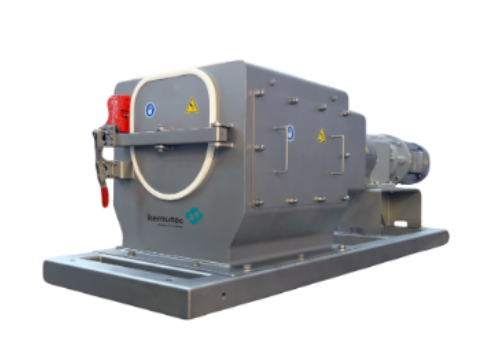 The Kemutec KEK Kibbler heavy-duty lump breaker mills, are designed to work in conjunction with other KEK mills or as a stand-alone mill in their own right. They are a solution for effective and quick size reduction.
The construction of Kemutec KEK Kibblers makes their performance strong and robust, while its specialist design allows it to demolish large lumps of material up to 150mm and grind them down to 2-3mm, for further processing. To ensure a consistent particle size, KEK Kibblers also classify material through a built-in screen.
In order to support the customer and to optimise their process, all Kemutec Mills are customised on a project-by-project basis.
Slow-speed, high torque size reduction
Cantilever shaft design available for maximum hygiene
Quick screen changes for speedy process
Easy access door for cleaning
Minimal 'fines' generation
Minimal heat generation
Control of milled particle size through screen selection
Low noise operation.