03 May 2022
PFM Horizontal Pouch Lines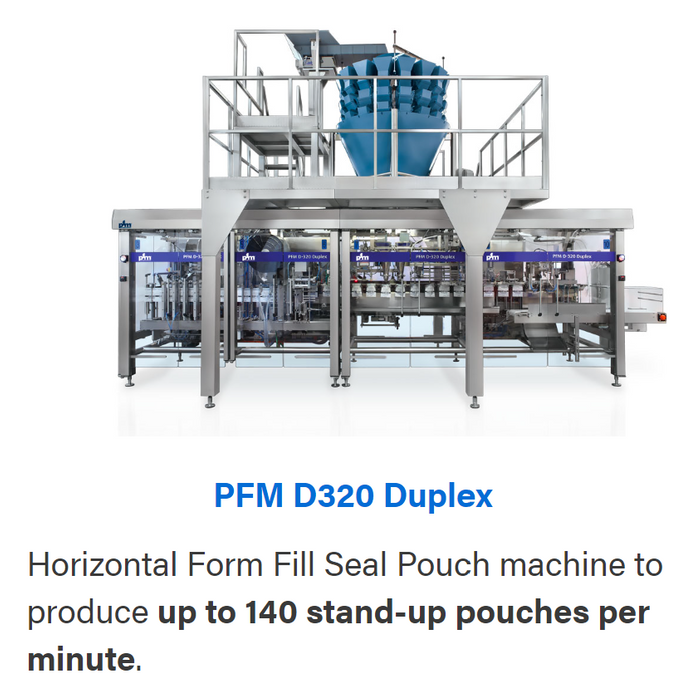 The D-Series is simple because all functions and operations are precisely controlled, parameterized and repeatable, including:
Automatic film stretch control & compensation.
Sealing parameters are material driven, not speed dependent.
Fast format change: takes 20 minutes on average.
Low-tension film transport.
Indicates time left before the end of the reel.
Machine is easily accessible, can be sanitized and inspected.
Categories
Packaging Machinery
Assembly Machines For Component Parts
Bag Filling
Bag Opening Machines
Bag-In-Box Equipment
Bakers Equipment
Banding Machines
Bar Code Equipment
Bespoke Machinery Or Machine Development
Box Making Machines
Cartoning Machines
Case Closing Machines (Corrugated Board)
Case Erecting Machines (Corrugated Board)
Case Form Fill And Seal Machines (Corrugated Board)
Case Making Machines
CD/DVD/Video Packaging
Checkweighers
Closing Machines
Coding And Marking Equipment
Complete Automation Systems
Controlled Atmosphere Packaging Equipment
Counting Machines
Denesting Machines
Depositors
Dispensers/Feeders/Applicators
Dosing Machines
End Of Line Bagging Systems
Feeders
Fill And Seal Machines
Filling Machines
Form Fill And Seal Machines
Gas Flushing Equipment
Heat Sealing Machines
Ink Jet Coding Machines
Lidding Machines
Marking Machines
Metal Detecting Machines
Modified Atmosphere Packaging (Map) Equipment
Multipacking Machines
Overprinting Machines
Overwrapping Machines
Pick And Place Machines
Portion Packaging
Product Recovery Machines
Ready Meal Equipment
Sack Filling
Sandwich Packing Machines
Sealing Machines
Second Hand Equipment
Stick Packing Machines
Thermal Transfer Printing
Tray Erectors
Tray Form Fill And Seal Machines
Tray Sealing
Vertical Elevators
Vibratory Bowl Feeders
Weighing Machines
Wrapping Machines
Dosing Machines
Filling Machines
Feeders
Inspection Machines
Bakery Equipment
Depositing Machines
Metal Detection Equipment
Plant Weighing Equipment