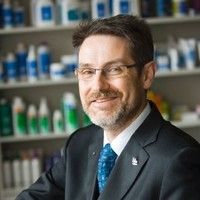 Alan Oppenheim
Ego running through the veins Biography: Alan Oppenheim, Managing Director, Ego Pharmaceuticals To say Ego Pharmaceuticals is part of Managing Director Alan Oppenheim's DNA might not be scientifically correct, but it certainly has merit.
The son of Gerald and Rae Oppenheim, who founded what is now Australia's largest family owned pharmaceutical business in 1953 after developing Pinetarsol from their family home, Alan knows Ego inside out. As a high school student, he would spend after hours in the dispatch, receiving and moving barrels of various ingredients well before the arrival of any forklifts. His physical handiwork even extended to factory cleaning for a two-week period whilst covering for a departing colleague.
Before the advent of 'personal computers', Ego purchased its first computer in 1978, whilst Alan was studying at Monash University (Bachelor of Science with First Class Honours in Chemistry). After officially joining Ego in 1981, Alan tasked himself with the job of programming the computer to run the factory's stock and manufacturing systems. With that herculean challenge under his belt, he then turned his attention to significantly improving quality systems in the production processes, the quality control testing processes and in the science behind all marketing material.
Now as Managing Director, Alan has lost none of his drive to constantly seek new ways to improve, and maintain the company's reputation for leading the way in innovative products for skin treatment and healthy skin maintenance. To that end, Alan is particularly proud of the 1988 development of SunSense, a world first in terms of improved protection and customer acceptability of sunscreen. Yet he is hard-pressed to single out any one milestone. Extending the iconic Pinetarsol range with Pinetarsol Gel and Pinetarsol Bar; the creation of DermAid (another world-first in terms of improved formulation of hydrocortisone cream); driving QV, responding to a request from the dermatology department of the Queen Victoria Hospital to create a product for their service line, to become market leader; the business has enjoyed many a success story in its 62 years.
Yet perhaps one of Ego's most enduring achievements is its unwavering ethos to remain Australian owned and Australian made, and to care for family skin. It is little surprise that this mandate to care resonates in everything Ego does. With the business itself still very much a family affair (Alan's wife Dr Jane Oppenheim, is Ego's Scientific and Operations Director); Alan is adamant his people make the difference.
"Ego's people are very much like family. With over nine having been with the business for 25 years and more fastapproaching that mark, there is no question of a strong bond across all our team," he said.
And the family continues to grow. Ego Pharmaceuticals now employs over 550 people in 13 nations, and exports to 27 countries.
Alan's passion for Ego, its industry, and the science that inspires and supports it, has led to numerous awards and industry recognition. A life Member of the Australian Dermatology Nurses Association, Alan was President of the International Federation of Societies of Cosmetic Scientists (IFSCC) representing 14,000 scientists in 35 nations. The business has also established fellowships for dermatologists and dermatology nurses in Australia and internationally. Under Alan's management, Ego has also been awarded a slate of accolades including the Governor of Victoria Export award (2016 & 2017), Australian Export Award (2016), Victorian Exporter of the Year (2016), Australian Self Medication Industry (2016 & 2017) but to name a few.